Dec-20 IIP: Coming full circle
KEY TAKEAWAYS
India's industrial production registered a modest growth of 1.0% on an annualized basis in Dec-20 compared to a contraction of 2.1% in Nov-20
However, on a sequential basis, performance was much stronger, in line with other high frequency indicators
IIP index now stands at par with the pre-COVID level seen in Feb-20
We believe the combination of a revert to a completely 'unlock' mode and an accommodative fiscal and monetary policy environment would continue to support industrial activity in the coming months
Optimism surrounding the roll-out of vaccine will further boost consumer and business confidence
However, the sustained rise in commodity prices and in turn input costs could weigh on business sentiment and profit margins
Ending the calendar year in the positive territory, India's industrial production registered a modest growth of 1.0% on an annualized basis in Dec-20 compared to a contraction of 2.1% in Nov-20 (revised slightly downwards from 1.9% earlier). However, on a sequential basis, performance was much stronger, in line with other high frequency indicators in Dec-20 such as Passenger Vehicle (PV) production, Core Infrastructure index, Core exports and imports among others. This momentum could not however, translate into a heartier annualized print owing to an adverse base.
The internals
The stronger momentum in Dec-20 was broad based, seen across both sectoral as well as use-based classifications.
Underscoring the continued recovery amidst the gradual 'unlocking' of the economy, IIP growth averaged at +1.0% in Q3 FY21 compared to -5.6% and -35.7% in Q2 and Q1 respectively.
The Q3 recovery has been led by index heavy-weight Manufacturing along with Electricity on the sectoral side; and Consumer Goods (both, Consumer durables and Consumer Non-durables) along with Infrastructure and Construction goods on the use-based side.
The recovery vis-à-vis pre pandemic levels is also progressing well, with IIP index in Dec-20 marginally exceeding Feb-20 level.
This is also apparent at the granular level, with nearly 57% of IIP basket i.e., 233 items out of the total 407 items now exceeding their output volume in Dec-20 vis-à-vis Feb-20 levels. It can be noted that this stood at 41% in Nov-20.
In similar vein, 214 items have exceeded their output volume in Dec-20 vis-à-vis Dec-19 levels compared to 175 in Nov-20. Bulk of the items showing improvement fall under the category of intermediate goods, consumer non-durables, and consumer durables.
Outlook
Uplifted by a robust momentum in Dec-20, IIP headline index now stands at par with the pre-COVID level seen in Feb-20. However, the pace of recovery still remains uneven and dependent on select sectors. While the strength in consumer goods lingering beyond the festive season is surely encouraging, it may still be an impact of pent-up demand. Recovery in investment-oriented sectors, on the other hand, underpins a more durable nature of recovery.
Looking ahead, one can expect the growth recovery in overall industrial activity to proceed further as:
With the lockdown restrictions being progressively brought down to minimal levels, mobility indicators are now only 10-15% below pre-COVID levels.
The policy environment, characterized by a countercyclical fiscal outturn reinforced in the Union Budget FY22 amidst an accommodative monetary and liquidity backdrop that RBI remains committed to, continue to remain supportive of economic recovery.
Sustained progress on rollout of vaccine in India, with 0.5% of the population getting inoculated so far, will be a boost to consumer and business confidence both.
On the downside, rise in input costs amidst hardening global commodity prices remains a risk. The concern is well highlighted in the recently released RBI's Industrial outlook survey. As per the survey, for Q4 FY21, while manufacturers expect expansion in production volumes, new orders and jobs, the sentiment on profit margins remains subdued on the back of higher possible input cost pressures.
We continue to expect GDP to post a V-shaped recovery in FY22 with a record high growth print of 11.0%. This anticipated recovery would be front loaded as H1 FY22 would benefit from a significantly favorable base effect.
Annexure-1
Chart 1: IIP growth underscores a V-shaped recovery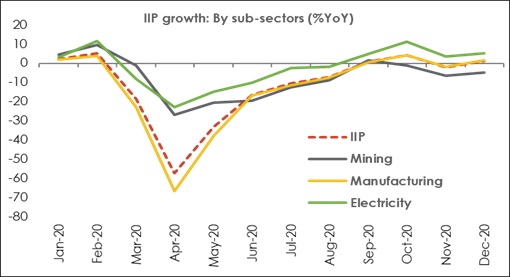 Chart 2: More than 50% of items within IIP have exceeded their pre COVID levels of production