KEY TAKEAWAYS
Dec-20 CPI Inflation eases to a 15-month low of 4.59% YoY from an elevated 6.93% in Nov-20
SOnset of a strong winter seasonality along with the lagged impact of surplus monsoon, drove a sharp correction in vegetable prices. As such, food inflation eased to a 16-month low of 3.87%
On the other hand, fuel prices registered a broad-based increase, reflecting the upward adjustment in India crude basket to the tune of 20% over Nov-Dec-20 (in USD terms).
After a gap of a year, owing to a disproportionately higher share of food, rural CPI inflation moderated substantially below urban CPI
Looking ahead, while we expect food prices to continue to offer comfort in Q4FY20, we will remain watchful of non-food prices especially global commodity prices (crude and metals) and demand side pressures as a vaccine-led recovery gains momentum heading into FY22
Dec-20 CPI inflation eased significantly to a 15-month low of 4.59% compared to 6.93% a month ago. The moderation brings the much-needed respite at a time when inflation had remained consistently and uncomfortably above RBI's upper threshold of inflation tolerance at 6% since the beginning of FY21 amidst a background of pandemic led weakness in growth.
What drove the inflation moderation?
Base effect:Dec-20 enjoyed an exceptionally positive base effect pegged at around 128 bps. That is to say, had CPI index remained unchanged at Nov-20 level, inflation would have still come off to 5.65%
Sequential correction:Exacerbating the downside was the correction in MoM momentum by a solid 1.01% in Dec-20. This was driven primarily by 2 sub-components, namely – Food and Housing
Food

prices corrected by a sharp 2.7%MoM, single-handedly driven by vegetables (-15.7%MoM). The decline in price of perishables was largely anticipated as per anecdotal evidence from retail mandi prices. As such, annualized food inflation eased to 16-month low of 3.9% compared to 8.9% a month ago.

Housing

index contracted by 0.4%MoM, in line with the seasonal contraction seen in the month of December (and June). This should be seen as a one-off and Jan-20 onwards the momentum will once again turn positive.
Among other components, capping the inflation downfall was the sharp upward adjustment in fuel and light prices, which rose by 2.4%MoM in Dec-20. Among the subcomponents, price pressures were seen across the board led by LPG, diesel, kerosene, coal and charcoal, reflecting to some extent the cumulative ~20% increase in India Crude Basket over the months of Nov-Dec-20.
In comparison, sequential momentum in other components, namely – Pan, tobacco & intoxicants, Clothing & footwear and Miscellaneous remained muted, below or in line the FYTD average run rate (see chart1).
Core inflation, i.e. Headline ex. Food and Fuel, reflecting underlying demand conditions in the economy, softened to 5.65%YoY from 5.85% in Nov-20.
Further, given the disproportionately higher share of food, rural CPI inflation after reigning significantly above urban inflation for almost a quarter, eased substantially below its counterpart in Dec-20 after a hiatus of nearly a year. (see chart2)
Outlook
Dec-20 CPI inflation print marks a much-needed reset in the inflation trajectory. We expect this comfort to continue into the last quarter of FY21 amidst a salubrious impact on food prices from winter seasonality, Kharif output, good progress on Rabi sowing, along with a positive statistical base. On the non-food prices, we remain watchful of the pass-through of the rise in global commodity prices of oil and other industrial metals to domestic inflation, along with demand-side pressures as a vaccine-led economic recovery gradually gains impetus in FY22.
Annexure
Chart1: Dec-20 vs. average FYTD21 (Apr-Nov) momentum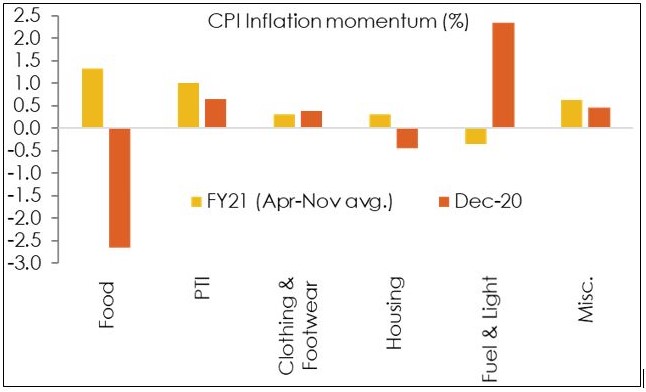 Chart 2: Rural CPI inflation eases significantly below Urban CPI inflation in Dec-20