Executive Summary
Acuité Ratings believes that the Indian MSME sector is well poised to exhibit a stronger performance over the medium term. While demonetization and introduction of GST had posed challenges, there are signs of a vibrancy coming back in the sector. Acuité's study on a representative set of 327 MSMEs with rated debt up to Rs. 25 Cr highlights a significant growth of 27% in revenues and an almost tripling of the net profits in FY18 as compared to FY17. The liquidity position for this set of MSMEs has also improved with gross current assets dropping to 135 days as on March 2018 from 153 days as on March 2017. This is also corroborated by a MSME Pulse report published by Transunion CIBIL & SIDBI in June 2018 wherein the NPAs in the micro and SME segment (< Rs. 25 Cr) have remained largely stable as compared to a sharp increase in that of the large corporate segment (banking exposures of over Rs. 100 Cr). In Acuité's opinion, the government has continued to play a key role in facilitating the growth of MSMEs and addressing some of the challenges being faced by them.
Indian economy has clearly shown strong signs of recovery post the impact of demonetisation and GST implementation. India's GDP growth has steadily increased from 6.1% in Q4 FY17 to 7.7% in Q4 FY18.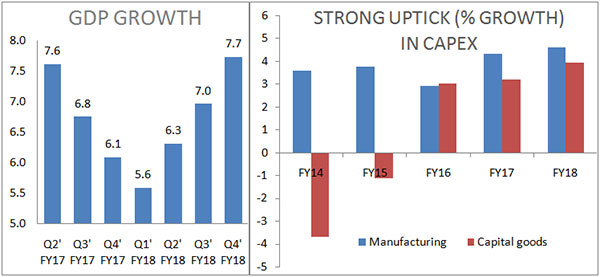 Source: MOSPI; CMIE; Acuité Ratings & Research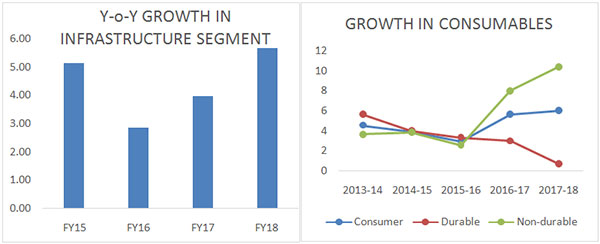 Source: MOSPI; CMIE; Acuité Ratings & Research
The increased spending by the Government bodies has translated into a significant increase in the order book of the small and mid-size construction companies. In FY18, there has been a steady improvement in private consumption which was reflected in a 10.4% growth in non-consumer durable segment, thereby benefitting the demand environment for MSMEs.
We undertook a study of a representative sample of 327 MSMEs rated by us and with external borrowings up to Rs. 25 Cr.There is an all-round improvement in the financial performance of these MSMEs in FY18 vs FY17 with a robust 27% growth in operating income and 66% growth in operating profits (OPBDIT).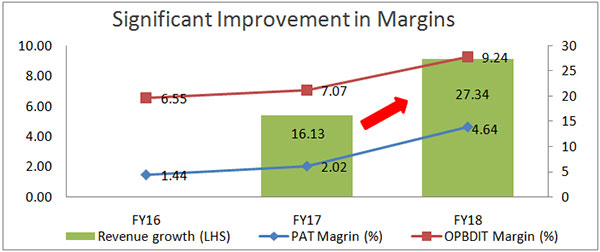 Note: Overall Acuité Portfolio for Rs. <25 Cr. Exposure
Source: Acuité Ratings & Research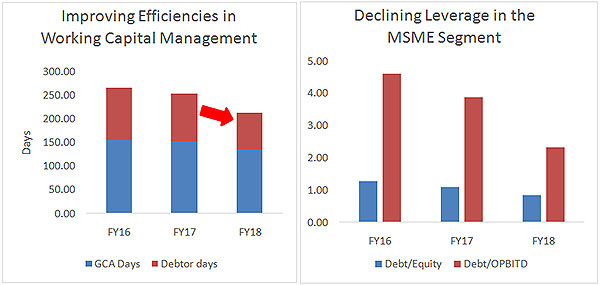 Note: Overall Acuite Portfolio for Rs. <25 Cr. Exposure
Source: Acuité Ratings & Research
The liquidity challenges also appear to have receded with improvement in the working capital parameters particularly the debtor position which has declined from 100 days as on March 2017 to 78 days as on March 2018. These figures reinforce our belief that the MSME sector is already on a recovery path and should continue to sustain the improved performance in FY19.
Acuité believes that the steps taken by the Government of India and RBI has made the business environment for MSMEs significantly favourable over the last one year. While GoI had simplified the GST structure for small businesses and revised the tax rates for many products manufactured and distributed by MSMEs, RBI had provided regulatory dispensation for a delayed recognition of NPAs for enterprises with aggregate borrowings up to Rs. 25 Cr in recognition of the cash flow mismatches faced by a section of MSMEs during the transition to the GST environment. Banks and NBFCs have been permitted an NPA classification period of 180 days instead of the standard 90 days and this dispensation has been extended for payments due till Dec. 31, 2018 for all MSMEs irrespective of whether they are registered under GST or not. RBI steps closely follow the measures taken by the Government in the Union Budget 2018-19 to put MSMEs on fast track and enhance employment opportunities. The budget has trimmed the corporate tax rate for companies with turnover of less than Rs. 250 Cr to 25%; this will lower the tax burden for almost the entire MSME sector and encourage balance sheet scalability thereby making them more competitive. It has also allocated Rs. 3 lakh Cr under MUDRA scheme to facilitate funding for the start-up companies.
All such measures are helping not only to bring in but also ease the transition of MSMEs into the formal economy. SIDBI's MSME Pulse report jointly released along with TransUnion CIBIL estimates that 5 lakh new borrowers are likely to tap the formal borrowing channels in the first half of 2018 as compared to 4 lakh in the second half of 2017. There is a good pick up in credit to MSMEs in the March quarter and Acuité believes that such a trend will be sustained in the current year.
The key to acceleration in the growth momentum, however is availability of adequate credit to the MSME ecosystem. The erstwhile lending engine to this segment, public sector banks (PSBs), currently have limited ability to meet such requirements given the prompt corrective action (PCA) status of a majority, priority given on stressed asset recoveries and their weak capital position. In the opinion of Acuité, non-banking financial companies (NBFCs) and private sector banks have a significant opportunity to scale up their business by Rs. 4.5 lakh Cr. in the mid-corporate and MSME space over the next 2 years. However, their lending may still not be adequate to meet the increasing credit demand. Acuité therefore, believes that there is a need to revive fresh lending by PSBs to these segments through specific measures.