Benefits of Indo-Israel Partnership to be pan-industry
Brief: Israeli waste management technologies can improve India's agro productivity multiple times; defense and space collaborations to also percolate both capital and technology into domestic industry
Impact: Positive
Impacted Sector: Agriculture
Israel is known for using high-end technology in agricultural production and efficient water management skill. The country currently feeds around 30% of its irrigation requirements through treated waste water (TWW). The country's waste water management efficiencies have been very successful, emulation of which is needed in India as well. Since performance of Indian agriculture sector has been completely dependent on monsoon, farm incomes are highly correlated to rain water.
Considering the trends, a deficit monsoon leads to higher inflationary pressure on agricultural commodities while normal/ surplus monsoon leads to deflationary conditions. Also, traditional approaches of cultivation are time consuming and responsible for lower yields. Resultantly, agriculture sector is less profitable and creates volatility in the agro eco-system. India-Israel have signed a three year action plan (2012 to 2015) to alleviate this problem. Under this plan, experimental productivity tests on the selected crops have yielded positive results (as given in below figure) and it is expected that these technics will flow into the mainstream cultivation. The partners have decided for another action plan for 2018-2020 pertaining to agro commodities as well. SMERA believes that adopting high-end technology in agriculture will boost productivity of the sector significantly and generate employment opportunity.
Due to slower technological makeover, value added per worker in agriculture has improved marginally from $528 in 2000 to $689 in 2014. However, we believe that adopting high-end technology in agriculture will boost productivity of the sector significantly and generate employment opportunity as well. Higher productivity and cost efficiency will boost the agro exports, which is growing at nearly (-) 1.8% for last five years. SMERA believes that agricultural collaboration with Israel will help in achieving sustainable growth in this sector. As a result, achieving 8% growth in overall GDP will be more feasible.


Performance of Indo-Israel Agriculture Project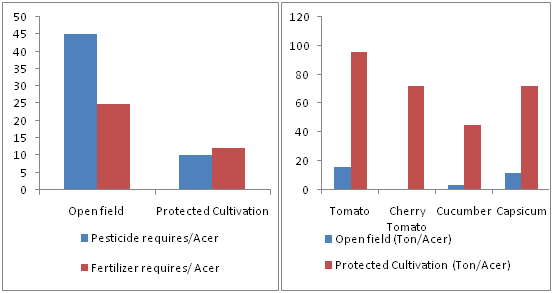 Source: Embassies of Israel, New Delhi


Impacted Sector: Defense & Space
India's defense expenditure for FY18 stands at Rs. 2.6 lakh crore while capital expenditure is pegged at Rs. 0.86 lakh crore. It is planning to double its defense expenditure and increase capital expenditure by 80%. NITI Aayog, in its 'Three Year Action Agenda' has been targeting to increase the allocation for defense acquisition in order to expedite the process in an increasingly volatile geopolitical environment. India is the fifth major military spending country and largest arm importer by sharing 13% of world arm imports. As a source, Israel is in third position with 7.2% share in India's defense imports. While India is the destination for 41% of Israel's total arm exports. It must be noted that depth of the Indo-Israeli relationship has bearing on the quantum of India's total defense imports, which is nearly 60% of its requirement. Therefore, we believe that defense collaboration between two countries with manufacturing under the "Make in India" scheme will be highly benefited to Indian defense firms, especially through the 30% plough back for domestic firms. The two countries have signed deals worth $2billion in this space. Similarly, cooperation in space research between two countries will make this sector more vibrant as primary targets concern themselves with advanced satellite propulsion technology as well joint launch programs.
India – Israel signed Memorandum of Understanding during Indian PM's Israel visit:
| | |
| --- | --- |
| MoU | Benefited Sector |
| Setting up Industrial R&D and Technology Innovation Fund | Defense, Industry |
| Water Conservation in India | Sanitation Industry |
| State Water Utility Reform in India | Sanitation Industry |
| India-Israel Development Cooperation -3 Year Program in Agriculture 2018-20 | Agriculture |
| Plan of Cooperation in Atomic Clocks | Space Industry |
| Cooperation in GEO-LEO Optical Link | Space Industry |
| Cooperation in Electrical Propulsion for Small Satellites | Space Industry |