Monsoon Report July 2017
The South-east monsoon's onset in early June has completed its second month of the FY18 monsoon cycle. So far the overall rainfall received across India is normal with 1-2% higher than long run average. In a moth wise performance, the overall rain fall in June was 170.2 mm, which is 15% higher than June, 2016. However, rainfall in July, 2017 is recorded 290.6 mm, which is 6% less as compared to the previous year. The region wise rainfall distribution is also showing positive sign – around 73% of subdivisions have received normal or excess rainfall in last two months in 2017 as against 70% during the same period the previous year.
Since more sub-divisions are receiving healthy rainfall, the area under sown has also increased substantially by 3.3% to 791.3 lakh hectares in July, 2018 as compared to the previous year. The most preferred crops during this kharif season are cotton (20.8% higher than last year), sugarcane (8.7%) and pulses (6.9%). SMERA estimates that the area under cultivation for cotton would record 12.3 million hectares in this kharif season, which was less than 11 million hectares the previous year. Last year, despite a fall in area under sown, cotton production had witnessed an 8.5% growth on account of a higher yield – this year too, SMERA expects growth on similar lines.
Area under sown for sugarcane has also reached to 49.2 lakh hectares, which was 45.8 lakh hectares last year. Productivity may improve this year compared to last year's, as it was noted that due to lower area under cultivation, sugarcane production had dropped by 13% in FY17. As a result, the capacity utilization of sugar mills in India had dropped to around 66%, SMERA estimates. The situation may be better this financial year.
Overall, the growth outlook of the agriculture sector seems robust with the higher sown area and normal monsoon. Therefore, price of agricultural commodities is likely to remain low. The global food inflation is decelerating with a higher pace. Therefore, price in the domestic market also need to in line with global trend to make the food product more competitive.
Month wise and region wise rainfall distribution in India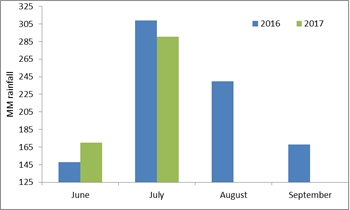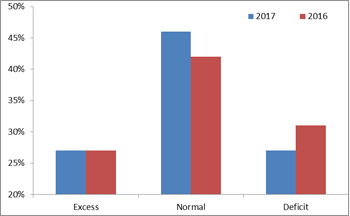 Source: IMD, SMERA Research
Price trend of agriculture commodity in the global market: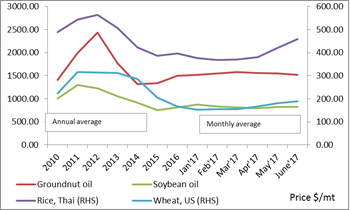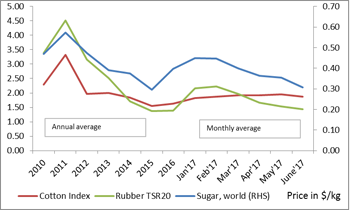 Source: World Bank, SMERA Research
Food inflation in India and world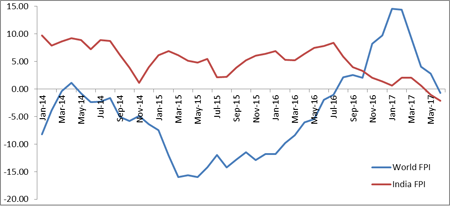 Source: World Bank, CMIE, SMERA Research
Area under sown till end of July
| | | | |
| --- | --- | --- | --- |
| Crop | 2017-18 | 2016-17 | % change |
| Rice | 216.23 | 211.20 | 2.38 |
| Pulses | 114.88 | 107.44 | 6.92 |
| Coarse Cereals | 150.19 | 145.40 | 3.29 |
| Oilseeds | 142.31 | 156.65 | -9.15 |
| Sugarcane | 49.15 | 45.22 | 8.69 |
| Jute & Mesta | 7.03 | 7.55 | -6.89 |
| Cotton | 111.55 | 92.33 | 20.82 |
| Total | 791.34 | 765.79 | 3.34 |
Source: Ministry of Agriculture, SMERA Research
Note: area in lakh hectares
State-Wise cumulative rainfall distribution during June 1, 2017 to June 27, 2017
Category

No. of States

Category Code

Colors

Excess

4

E

Normal

20

N

Deficient

6

D

Average Rainfall in India

Actual

Normal

Category Code

%DEP

460.2

452.8

N

2%
Source: Indian Meteorological Department, SMERA Research
Note: IMD considers below ±19% deviation in rainfall as normal rainfall
State-Wise cumulative rainfall distribution during June 1, 2017 to July 31, 2017