Industry Risk Score : Telecom - Mobile

India has emerged as world's second largest telecommunication subscriber's market, and the demand for mobile services continues to grow at a steady rate. The demand is on the rise as mobile services have become a necessity and are not only used to make voice calls but importantly, to access internet or connect with social media. The call and data charges continue to be one of the lowest in India and along with highly affordable smartphones, makes telecom services easily accessible for the masses. Internet subscribers and app downloads along with Mobile Value Added Services (MVAS) offered by the operators is steering the demand for mobile services. The demand for data services, in particular has risen further in the current year given the outbreak of Covid-19 and the national lockdown extending to almost three months which has increased the volume of digital transactions.
Further, the telecom sector has virtually witnessed a significant consolidation over the last two years with three large private sector telecom service providers currently operating in the country apart from the state owned players. This has brought down the extent of competition in the industry substantially. In a consolidated market, the data prices have increased by over 20% over the last six months and is likely to increase further as the demand for data services rises further. While Reliance Jio has aggressively acquired market share in the first phase of its entry in the market, it has also started to increase tariffs from FY20.
Telecom industry has segments which include mobile (wireless), fixed line (wireline) and Internet services. In India, the mobile telecom market dominates the telecom industry accounting for 98.2% of the subscribers as on June, 2019. The total telephone subscribers were 1.19 billion out of which, the mobile subscribers were 1.16 billion and remaining were fixed line subscribers.
Despite some rationalization happening over the years, the license fee and spectrum charges paid by the operators to the government remain substantially high leading the players operating in the segment under stress. The operators need to continually innovate their marketing strategy and provide excellent customer service to retain market share. Telecom Regulatory Authority of India (TRAI) monitors the performance of the operators on various parameters and also protects the interests of the consumers. As such, the Indian telecom industry is reasonably up to date with the technology used overseas, but, investments are required to adapt newer technologies. R&D is also required to address issues such as poor mobile connectivity in remote areas. Regulators have also supported the industry with increasing the Foreign Direct Investment (FDI) to 100% from 74%.
Key Risks & Attributes
Steady growth in demand for data services
Consolidation in the sector and a rationalization of tariffs
Availability of spectrum and high license fee
Customer retention is critical to the business

The mobile subscribers are expected to reach 1.42 billion by 2024 out of which 80% subscribers are expected to use 4G. There are many factors that are contributing to this growth such as increase in population, low call and data charges, availability of cheap mobile phones, dependence on mobile to access the internet, for work, connect with social media, app downloads, and penetration in the rural market. Apart from the regular call and data services offered by the operators, there are various value added services that are provided by them to capture and retain their market share.
Mobile phones are no longer considered a luxury but have become a necessity as is evident from the fact that mobile tele-density has increased from 14.6% in FY2007 to 90.1% as on FY2019. Further, 7 out of 8 internet users access the internet from mobile phones as it is cheap, readily available and does not require any other equipment. India, is expected to witness an addition of ~500 million new internet users in the next 5 years due to cheaper data cost and higher penetration. Dependence on mobile has grown with changing lifestyles and work demands. Mobile apps are used for connecting with people on social media, banking, business, education, shopping and entertainment. India is considered to be the fastest growing market for apps in terms of number downloads made on Apple iOS and Google's Play Store.
Popularity of mobile services have also increased as the Indian operators offer mobile call and data services at rates which are among the lowest in the world. Some of the feature mobile phones are available at a cost of around Rs. 500 and even smart phones are available at a reasonable price, which makes it affordable even to the financially weaker section of the society. The increased usage of smart phones has made 2G and 3G technologies almost redundant as these do not support data download and high internet speed.
However, there are still over 46,000 villages that do not have mobile connectivity. In fact, as on FY2019, overall tele-density in rural areas was only about 57% compared to ~160% in urban areas. Thus, the rural share is likely to rise going ahead supported by sustained government initiatives to push digitization. Further, the government has also approved the National Digital Communications Policy-2018 that has been formulated in place of the existing National Telecom Policy-2012, to cater to the modern needs of the digital communications sector of India. The policy looks to connect, propel and secure India Universal broadband connectivity at 50 Mbps to every citizen, provide 1 Gbps connectivity to all gram panchayats and ensure connectivity to all uncovered areas. In its effort the government thus is looking to attract investments of USD $100 billion in the digital communications sector.
Acuité is of the opinion that demand and supply risk is favorable. Favourable demographics, affordable call and data charges, dependence on mobile for work and lifestyle changes as well as current low penetration in rural areas will ensure that the number of subscribers will continue to grow, even though not at the same pace as witnessed in the last ten years.
Nature & Extent of Competition

The intensity of competition in the telecom services industry has perceptibly dropped with the closure of operations of several regional players and a merger between Vodafone and Idea. This has led to an improvement in the pricing scenario and has also started to get reflected in a recovery of EBITDA margins. However, with low barriers for the subscribers to switch their telecom service provider, customer retention is the prime focus of the incumbent players who are focusing on providing MVAS to differentiate their services.
Reliance Jio entered the market in September 2016 and has continued to capture a substantial market share since then. From 13.7% of the market by the end of 2017, it has grown at a robust rate capturing 26.4% as on FY2019. The company could achieve that due to their pricing and marketing strategies, such as offering its services at no cost, launching a variety of Jio based MVAS and price efficient bundled schemes. In fact, as on May 2019, Reliance Jio (27.8%) has secured the second spot in revenue market share by overtaking Bharti Airtel (27.6%), while Vodafone Idea (33.4%) managed to lead the pack.
The price war, especially post launch of Reliance Jio, had put pressure on the margins earned by the operators leading them to consolidate the market. Airtel has acquired Tata Teleservices, and Vodafone and Idea have merged. Most of the small regional players have either sold their business to the large operators or either have become bankrupt. However, the rationalization of tariffs by all industry players over the last six months indicate that the pricing war has largely subsided.
Acuité believes that the intensity of competition in mobile telephony services has subsided significantly with market consolidation and profitability margins are likely to witness a steady improvement in the near to medium term. While the extent of improvement may still not be adequate to translate into a healthy financial performance for players with high debt levels, the concerns on the sustainability of the sector has been largely addressed.

The cellular operators who entered the industry initially had to pay huge license and spectrum fees. Later, the licenses were rationalized and linked to the adjusted gross revenue earned by the company. The operators have to rely on tower management companies in India and thus, don't have any bargaining power with them. To be able to retain customers, the operators need to have an innovative marketing strategy, and offer enhanced customer experience. Investment in IT tools is also crucial for accurate billing and secure customer data.
Spectrum Management: There are a number of issues regarding spectrum management. Availability of licensed spectrum is abysmally low, largely because a broad band of the spectrum has been reserved for defense use. High license fee and spectrum cost wherein the operators had to purchase spectrum for launch of 2G, 3G and 4G services from the government by participating in an auction, where the reserve price was kept substantially high. Lately, these licenses have been rationalized and are linked to the adjusted gross revenue (AGR) earned by the operators. In fact, in October 2019, the Supreme Court ruled that AGR for telcos should include all revenue accrued to carriers, including that from non-core activities, supporting the telecom department's stance which will further cripple the telcos sustainability and more specifically the incumbents. Broadly, the recovery dues sum up to more than Rs 1.3 lakh crore aggregating dues, penalties and interest from the sector which is already under financial stress.
Telecom Towers: Heavy investment is required to build towers and it is critical to have a widespread network to ensure quality of service. In India, separate companies build and manage the towers, and the operators have a tie up with them. There are very few companies which offer tower management services and only a couple of them have an extensive network of towers. Thus, the operators have limited bargaining power with the tower operators and have to accept the pricing given. However, tower sharing has been allowed from 2016, which has brought down the cost for the operators.
Brand development: It is imperative for the cellular operators to keep innovating their marketing strategy to capture the market. Airtel is focusing on providing high quality content to its subscribers and as a result data consumption per user has increased at a strong pace. Vodafone's brand recall value is high due to its continuous running of advertisement and its innovative products, but Jio has been the market gainer over the last few years and is a proving a serious player in terms of brand.
Customer service: To augment the customer experience, an operator needs to ensure facilities such as quick sim activation, offer customized plans as per the needs of the user, accurate billing, ease of payment of bills, prompt resolution of disputes.
IT tools: It is important to invest in IT tools to manage and process data relating to customers and also ensure security to maintain customer data privacy. IT tools are also required to ensure accurate billing as otherwise there is a risk of incurring losses.
Acuité is of the opinion that input related investments are high for the sector and an efficient management of infrastructure is the key to the profitability of overall business.

Telecom Regulatory Authority of India (TRAI) has been set up as an independent statutory body to govern the telecommunications industry in India. It further monitors the performance of the mobile operators in terms of number of subscribers, quality of service, average revenue per user (ARPU) etc. It ensures healthy competition in the industry and protects the interests of the users. The policies laid down by TRAI have an effect on long term profitability of the operators. Moreover, policies such as spectrum sharing, grant of Mobile Virtual Network Operator Licenses are likely to augur well for the operators. The sector however remains exposed to regulatory risk, in a recent instance wherein an order by the apex court ruling in favor of the telecom department is likely to cripple the sector which is already under financial stress.
FDI norms have been relaxed to allow 100% stake through Foreign Investment Promotion Board (FIPB) approval route. Notwithstanding, FDI in the telecom sector dropped by around 43% to USD $2.6 billion in FY2019.
Acuité believes that the telecom sector remains significantly exposed to regulatory risk and going ahead any further adverse policy changes are likely to affect the incumbent players. Consequently, prudent risk mitigation will be the key for the industry.

Mobile network technology has seen remarkable technological advancement over the years. The network technology has seen the launch of 2G, 3G, 4G services and soon 5G services would be rolled out. The improved technology has vastly improved the utility of mobile phones as they are no longer used for just making calls and receiving messages. But this evolution required the mobile operators to invest in massive network of optical fibers that runs between the cell towers. The optical fibers are required to sustain considerable mobile data traffic, which cannot be supported by the microwave wireless technology used previously. Over 43,000 villages (as per latest available 2018 data in the public domain), especially in remote areas lack wireless access because of absence of cell towers owing to its economic unviability. Consequently, some of the rural areas still continue to use the 2G technology. However, DoT plans to set up a network of Low Earth Orbit Satellites and Medium Earth Orbit Satellites for telecom services. This will boost the provision of mobile services in remote areas such as islands and hilly areas. Thus, it is imperative for the mobile operators to continually undertake R&D and adapt newer technologies in order to avoid obsolesce.
Acuité believes that despite the operators being reasonably equipped with the latest advancements in cellular technology, sustained investment in R&D and adoption to newer technologies will be important for long term sustainability of their market position.
Industry financial performance risk score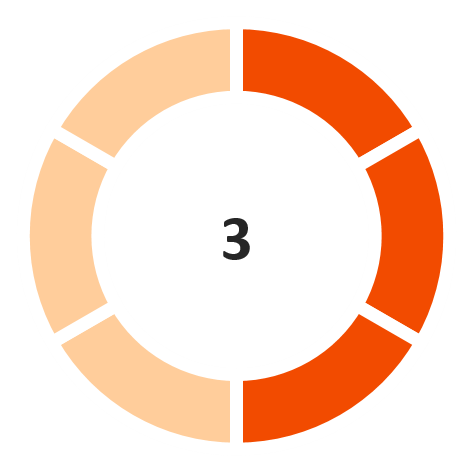 Operating Margin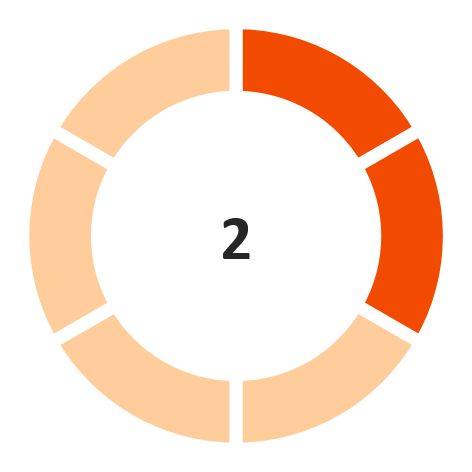 Interest Coverage Ratio
(Unfavorable)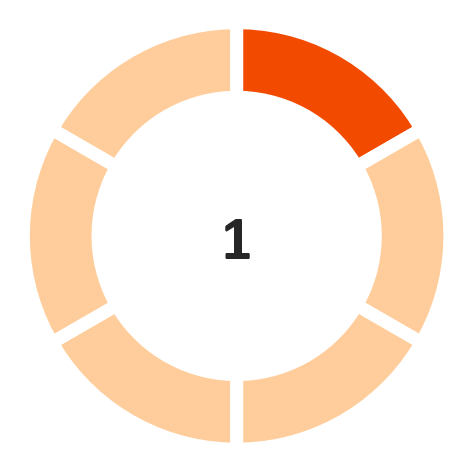 Return on capital employed
(Highly unfavorable)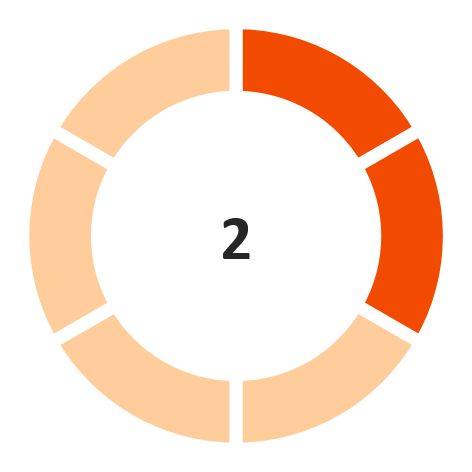 Debt/ Equity
(Unfavorable)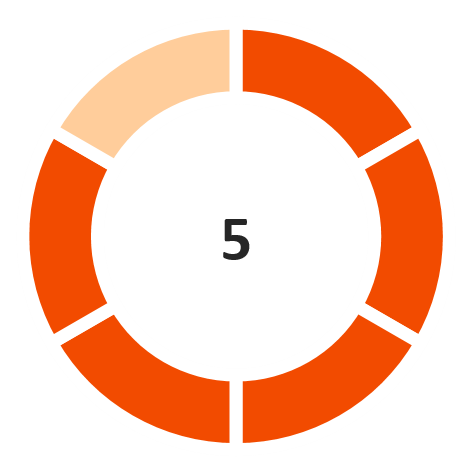 GCA days
(Favorable)
Note: The industry financial performance risk score is provided on a 6-point scale
Disclaimer:

Acuité IRS should not be treated as a recommendation or opinion that is intended to substitute for a financial adviser's or investor's independent assessment of whether to buy, sell or hold any security of any entity forming part of the industry. Acuité IRS is based on the publicly available data and information and obtained from sources we consider reliable. Although reasonable care has been taken to ensure that the data and information is true, Acuité, in particular, makes no representation or warranty, expressed or implied with respect to the adequacy, accuracy or completeness of the information relied upon. Acuité is not responsible for any errors or omissions and especially states that it has no financial liability whatsoever for any direct, indirect or consequential loss of any kind arising from the use of Acuité IRS.