Weekly Macro Data Coverage - November 05, 2018
Key Takeaways:
Systemic Liquidity has reached ex-ante neutrality with WACR-Repo parity
The Repo-WACR differential stands at zero in last week of October
Corporate bond issuances continue to have a negative growth in Q2, FY19 as yields remain unattractive. Even the formerly attractive Commercial Paper issuances have been lacking any kind of excitement
With falling commodity prices in the global market, the Indian rupee is gaining momentum against USD
Liquidity:
Domestic money market has reachedex-ante neutrality in first week of November with Repo WACR parity. Liquidity condition is expected to improve marginally in coming weeks as RBI is set to infuse another Rs. 400 billion in last week of October. We are expecting further infusions in the remaining financial year so as to maintain steadiness. Moreover, stability in forex market will improve as domestic liquidity increases. It is understood that RBI's selling of forex reserve adversely impacts domestic liquidity (as per the Reserve Money calculations).

Capital Market:
An improvement in capital market is noticed as the spread between 10-year Indian G-Sec bond and its US counterpart came down to last year's level of 460 bps (in 4th week of October, 2018). The spread was 481 bps in the previous week. Therefore, the market for Indian debt will be less attractive (for foreign portfolio managers) in FY19. On account of higher yield, outstanding commercial bond issuances remain mute at Rs. 28.4 lac crore in Q2, FY19.

Currency Trend:
With the RBI's intervention, the USD-INR pair remains stable at 73.4. It is worth mentioning that RBI has sold its forex reserve of around $8 billion in one month to reduce the currency volatility. With the improvement in commodity prices in the global market, the Indian rupee is gaining momentum against the USD. We expect the USD INR currency pair to remain near the 73 level in November, 2018.
Interest Rate and Ratio:
| | | | | | | |
| --- | --- | --- | --- | --- | --- | --- |
| | Oct. 27, 2017 | Sep. 28, 2018 | Oct. 05, 2018 | Oct. 12, 2018 | Oct. 19, 2018 | Oct. 26, 2018 |
| Policy Repo Rate | 6.00 | 6.50 | 6.50 | 6.50 | 6.50 | 6.50 |
| Call Money Rate (WACR) | 5.85 | 6.49 | 6.34 | 6.41 | 6.53 | 6.50 |
| 364-Day Treasury Bill Yield | 6.22 | 7.73 | 7.77 | 7.58 | 7.50 | 7.47 |
| 2-Yr Indian G-Sec | 6.44 | 7.76 | 7.79 | 7.65 | 7.58 | 7.44 |
| 10-Yr Indian G-Sec | 7.00 | 8.00 | 8.02 | 7.96 | 7.88 | 7.84 |
| 10-Yr US G-Sec | 2.41 | 3.23 | 3.15 | 3.19 | 3.07 | 3.20 |
| 10Yr India Spread (pbs) | 459 | 477 | 487 | 477 | 481 | 464 |
| AAA Indian Corporate | 7.50 | 8.85 | 9.00 | 8.31 | 8.63 | 8.89 |
| AA Indian Corporate | 7.95 | 9.74 | 9.74 | 9.49 | 8.97 | 8.97 |
| AAA to10 YR Indian bond spread (pbs) | 50 | 85 | 98 | 35 | 75 | 105 |
| Credit/Deposit Ratio | 72.92 | 76.13 | - | 76.30 | - | - |
| USD LIBOR | 1.43 | 2.39 | 2.40 | 2.43 | 2.47 | 2.58 |
Source: RBI, Investing.com

Money Market:
| | | |
| --- | --- | --- |
| | Deposit (In Rs. Lakh cr) | Bank Credit (In Rs. Lakh cr) |
| As on Oct 12, 2018 | 117.85 | 89.93 |
| As on May 25, 2018 | 113.52 | 82.23 |
| As on Oct 13, 2017 | 108.25 | 78.64 |
| YTD (% change) | 3.81% | 9.36% |
| YoY (% change) | 8.87% | 14.36% |
Source: RBI
| | | |
| --- | --- | --- |
| Commercial Paper (Fortnight): | Outstanding (In Rs. Lakh cr) | Amount issued (In Rs. Lakh cr) |
| 15-Oct-18 | 5.94 | 0.79 |
| 30-Sep-18 | 5.56 | 1.12 |
| 15-Oct-17 | 4.79 | 1.06 |
| % Change (MoM) | 6.88% | -29.46% |
| % Change (YoY) | 24.01% | -25.47% |
Source: RBI
Corporate Bond Position (in Rs. lakh cr):

Source: RBI, Acuité Research

Liquidity Operation by RBI: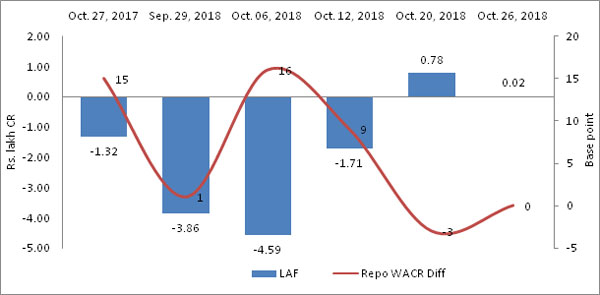 Source: RBI
Note: Net injection (+) and Net absorption (-)
USD-INR Movement (64.84 in Nov, 2017 to 73.54 in Nov, 2018):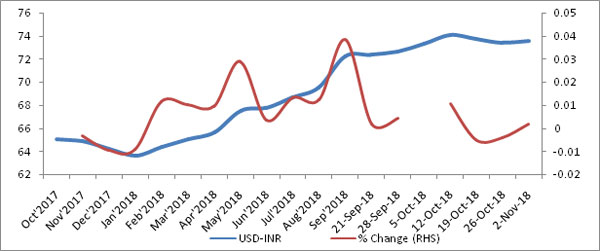 Source: RBI, Acuité Research

Commodity Price Index (3 Month Moving Average):

Commodity Price Movement (3 Month Moving Average):